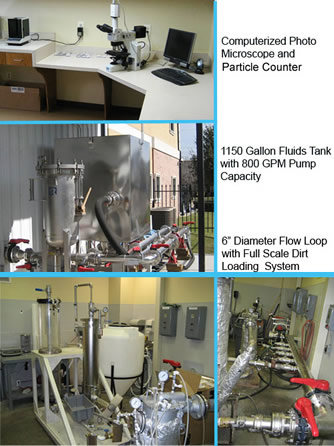 FMT offers Both In-House or On-Site Fluid Analysis to Provide Custom Engineered Solutions For Specific Fluid- Solid Separation Problems.
A Broad Variety of Tests and Analyses Are Conducted to Ensure Proper Selection Of Filter Media & Efficiency To Produce The Desired Filtrate. The System Designs Are Optimized To Meet Your Cost And Specific Performance Constraints.
The Results of FMT Test Data Have Been Employed For 23 Years To Design Filters And Systems To Meet Client Specifications.
Sampling Techniques Are Critical For Accurate Results: Liquid Sampling Procedure
Full Test Flow Loop
800 GPM Pump Capacity

6" Diameter Piping With Manifolded Full Flow Ball Valves

316 SS Cartridge and Bag Filter Test Vessels

Continuously Stirred and Mixed Reactor For Constant Feed Dirt System

1150 Gallon Fluids Tank With 300# Capacity 0.45 Micron Absolute Rated Filtered Feed Clean-Up System

Full Instrumentation and Computer Controlled Data Acquisition
Laboratory Services:
Filter Dirt Holding Capacity

Free Oil Quantitative Analysis

Oil Absorption Analysis

Media Micron Association and Selection

Electrocoagulation

Turbidity (NTU)

Gravimetric Analysis

Total Suspended Solids (TSS)

Optical/Digital Particle Counts

Particle Size Distributions (PSD)

Photomicrographs
Field Test Kits
Test Kits for Field Sampling to Obtain TSS and PSD Results from Dry samples are Sent to the Lab with an Easy-To-Use Portable Kit.
This Reduces or May Eliminate the Need to Send Liquid Samples to the Lab for Analysis.
TSS-The Use of This Test Kit and a Portable Turbidimeter Allow For On-The-Spot Comparisons of an Existing Filter System's Effluent and Feed by Comparing Them Against Liquid Samples Drawn From Sample Ports. The Samples are Forced Through Various Micron Size and Filter Media Discs Supplied With the Kit. Syringes are Employed to Draw and Force the Liquid Samples Through Media Discs. The TSS Discs Are Pre-Weighed and are Dried in a Desiccator/Dryer and Compared to the Current Weight.
PSD-Dried Samples Are Examined By Manual/Computerized Microscopic Particle Counters. Errors From Fluid Bubbles Are Eliminated By Employing Microscopic Analysis
A Calibrated Portable Turbidimeter Can Be Employed as The Fluid Comparison Analyzer.
Portable Turbidimeter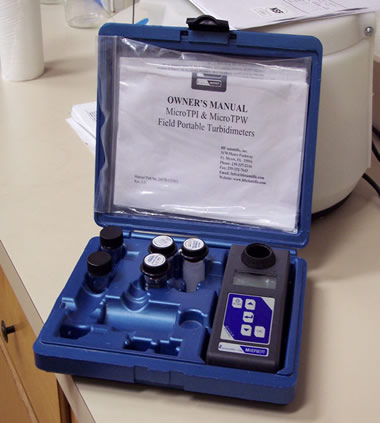 Employing a Field Test Kit and Turbidimeter Can Reduce Time and Lab Fees for You and Your Customer.
Need Further Information? Please Call or E-Mail Us