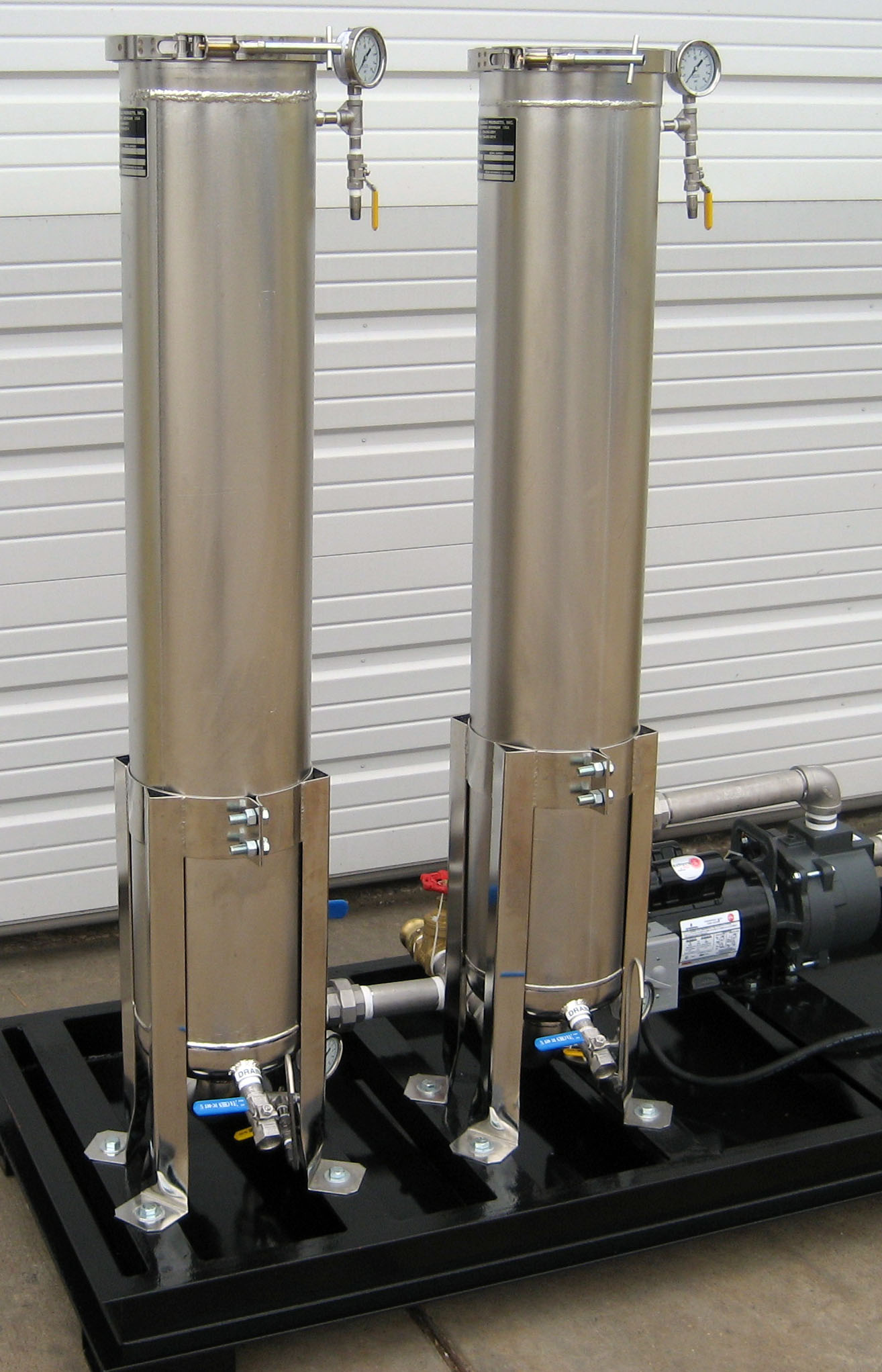 FMT's 740 Series OIL GUZZLER cartridge is designed for capturing and absorbing oil from water. It contains an advanced polymer designed to remove oils from water and bond it permanently for disposal. The FMT Guzzler is a perfect choice for environmental wastewater and E&P Produced Water applications. This filter is odor free.
The media in this unique cartridge combines the effects of adsorption and absorption to enhance its oil removal efficiency. This system Incorporates these media into 2.5" OD and 6.25"OD filters engineered with segregating flow chambers and flow barriers to enhance residence time resulting in maximum hydrocarbon holding capacity.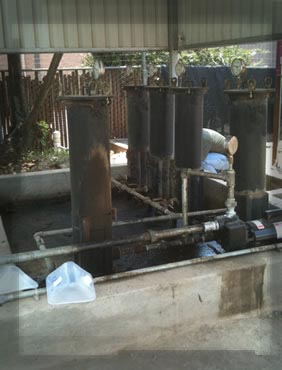 Employed For:
Refining and Petrochemical Plant Warehouse Oil Leaks

Rotating Equipment Seal Oil Leaks

Tank Farm Oil Discharges

Concrete Pad Oily Rainwater Runoff

Sump Oily Water Collectors

Bilge Water

Pre-R/O

Metal Working Oily Rainwater Storm Sewer Interceptors

Highway Oily Water Runoff

Water Treatment Plant Oil Pre-Treatment and Oily Water

Interceptors

Nuclear Turbine/Pump Oil Binder Unit

Onshore and Offshore Produced Water Oil Removal Treatment

Drilling Pad Oily Water Treatment

Enhanced Oil Recovery Emulsion Wastewater Oil Removal

Automobile and Bus Parking Lot Oil Leak and Fueling Pad Storm Sewer Interceptors

Automobile Repair, Storage, and Maintenance, Oil Leaks and Storm Runoff

Carwash Oily Water Treatment

Airport Fueling & Storage Pad Hydrocarbon Runoff
One FMT 740 Series OIL GUZZLER is designed to hold more than six (6) liters of oil before reaching a maximum differential pressure of 35 PSI. The built-in flow cutoff mechanism provides a positive indication of change-out time prior to oil breakthrough. The hydrocarbons are permanently bound in the filter media.
A typical wastewater system consists of two vessels employing a particulate filter upstream to protect and extend the life of the downstream oil removal cartridge filter. FMT will test your wastewater sample to determine its free, suspended, or emulsified oil content to establish optimum flow rates and estimate the life of the filter.
With a recommended maximum flow rate of 15 GPM per 6.25" OD filter, the FMT OIL GUZZLER is an optimal solution for eliminating trace oil from water at minimal cost in single pass removal.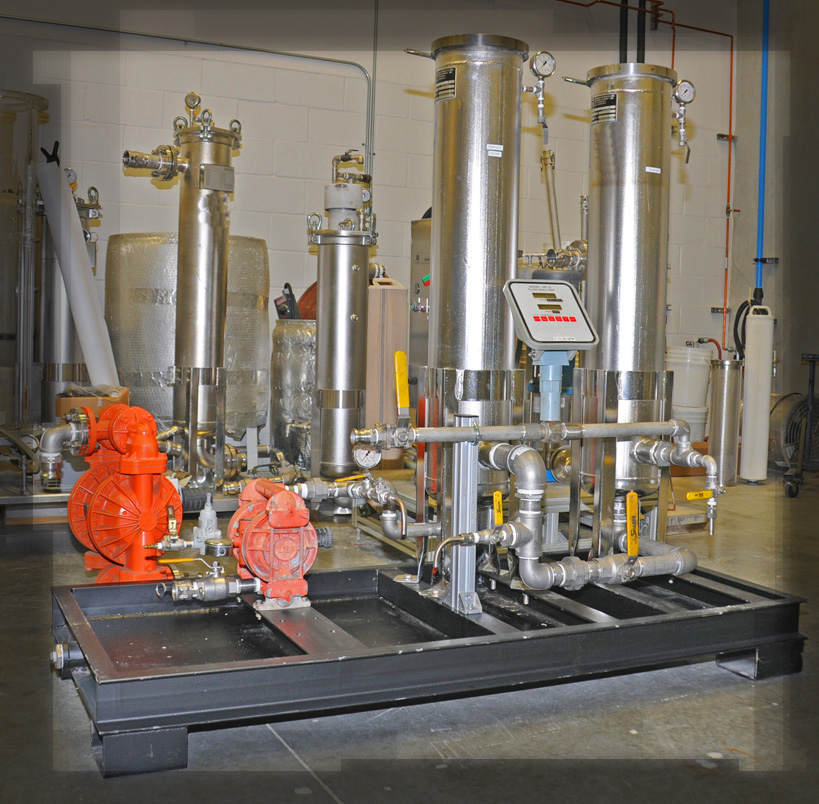 Rent a system to test in your facility. We will design a custom solution for your application. FMT's portable design for removal of oil from water wastewater applications. The pump system is designed for onsite wastewater testing at 15 GPM with an air driven diaphragm pump. No control panel or electronic connections required.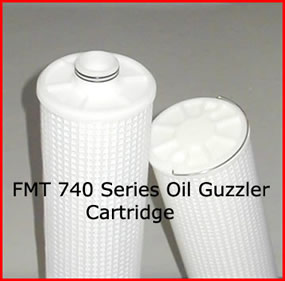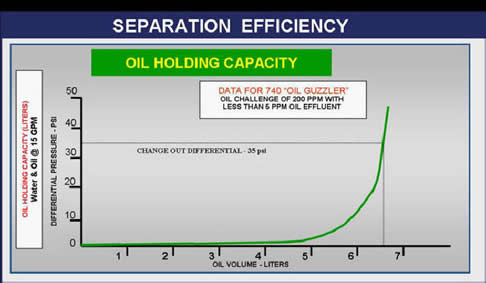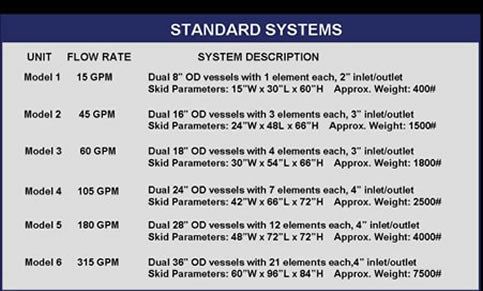 Ship, Yacht, and Well Water, Oil, Hydrocarbon, and Chemicals Absorber Filter Element