Current Topics:
Many liquid filtration solutions are really simple sieving solutions. But, when industrial feed/intermediates/product quality are defined by a specific PSD (Particle Size Distribution) and TSS (Total Suspended Solids) specification, the solutions becomes much more complicated. Lets add temperature, pressure drop, corrosion, aggressive solvents, poison gas, hazardous changeouts, spills, time sensitive solutions, and disposal issues to the solution.
Questions such as filter media type, bag or cartridge, temperature, pressure, viscosity, contaminants, radioactivity, media efficiency, micron rating, flux rates, testing labs, and testing methods must be answered.
1)
Convert an ASME Code Bag Vessel to a Cartridge Vessel:
Allowing High Temperature, Solvent Resistant Media & Components & Oil Absorbing Cartridges. Add Advantages such as Steel/Cellulose Filter Construction. No Welding is required and the Conversion Is Reversible.

Single and multi-layer bag filters contain about 4.4 sq. ft. of surface area and will hold from 0.5 lbs. of solids to 2.5 pounds each. Pleated bag filters are available which will hold from 5 to 10 pounds of solids each. Before converting the vessel, will a pleated bag filter will solve your length of life and maintenance problems?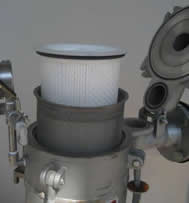 A pleated bag filter employs the current filter basket as the pressure control device to control outward swelling. Your baskets may have been changed-out or modified from the original design. The basket should have an ID of about 6.25-6.50" for standard bags. Take the basket out, inspect it for damage, and check for a taper. If your basket does not have a uniform diameter, you are probably limited to a 20" filter length.
Two styles of pleated bag filters are available from FMT:
The 550 Series employs a universal cap which will fit 99.9% of bag vessels. It is a 99% efficiency filter (beta 100). It has two sealing O-rings. One is embedded into the cap underside and the other is for alignment for large basket ID's. This large O-ring can be removed if it is not required.
The 650 Series employs a custom cap for the vessel and is a 99.98% (beta 5000) efficiency filter. This filter has about twice the surface area of the 550 Series and holds twice the solids. This filter is available in 20" and 26" lengths. Make sure the basket is not tapered and will accept a 26" filter.
Some baskets have been modified and made much heavier and made with thicker perforated sheet. If your basket has a 6" ID, a standard 6.25" diameter filter will not fit. However, a custom filter can be built for this
FMT MAX-OUT Bag Vessel Conversion to Cartridge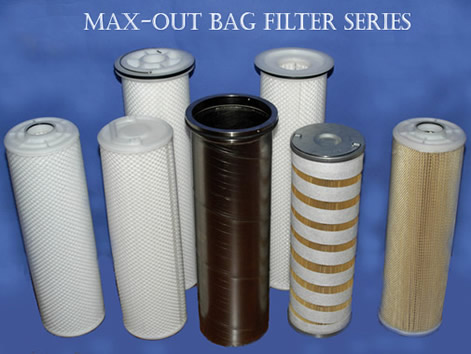 A solid basket is fabricated for your vessel with a receiver to accept a cartridge filter. Your bag vessel must be measured with a set of calipers to check roundness and dimensions. All vessels are different, even if purchased in pairs. Some bag vessel tubesheet holes may have been cut with a torch and may be out-of round.
Check your tubesheet for warping. The tubesheet may be concave or convex. Warping may be due to pressure or temperature or a tubesheet too thin for the application. Report a tubesheet that is not flat.
A set of set screws and an O-ring hold and seal the new solid basket to the tube sheet. The cap sealing section of the Max-Out Basket is unique to the bag vessel manufacturer. The most common are in stock.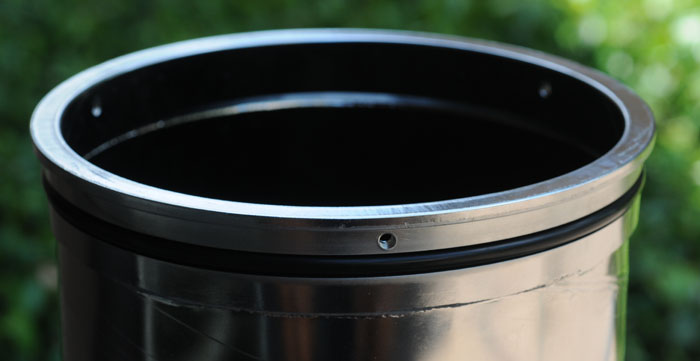 A series of Max-Out Cartridge Filters are available designed specially for the Max-Out basket. Flow is into the top of Max-Out basket. A flow channel exists between the basket and filter. Flow is into filter and out the center discharge.
Critical Dimensions Are Contained In These Drawings: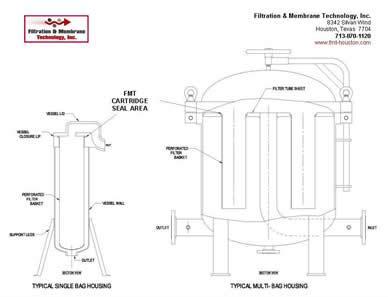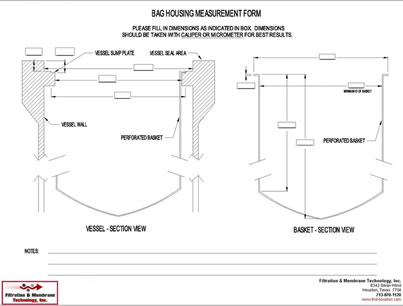 Please E-Mail The Filter Doctor with questions at The Filter Doctor
2) Make Intelligent Engineered Design Decisions For New Projects & Revamps.
Should It Be a Bag or Cartridge Vessel/Filters? or Something Else; Vacuum, Disc, or Cleanable?
Design Steps:
1. Determine Stream Composition, Flowrate and Temperature
2. Calculate Total Solids/Day Removal, Know TSS, PSD
3. Set Initial Flux Rate, For Pleated Absolute Rated Cartridge & Bags
@0.5 Gal./Ft.2/Min. Set Nominal Rated Bags From 60-120 GPM/Bag
4. Determine Surface Area For Selected Filter (Vendor Data)
5. Determine Cartridge or Bag Filtration (Consider Sealing, Bag OD's fixed at
6"-6.5"-Cartridges to 20" Diameter, Total Cost Comparison
6. Calculate Best Fit-Number and Size of Filters Required
7. Calculate Number of Vessels Required
8. Calculate Total Pressure Drop (Clean & Fouled)
9. Modify Design to Minimize Changeout Frequency
10. Design Vessel Layout, Modify to Optimize
11. Calculate Volume and Weight of Waste
Design Considerations:
1. Customer Specs, Metallurgy, Temperature, Pressure, and Instrumentation
2. Footprint, Weight, and Clearances
3. Tubesheet Thickness and Diameter Limitations to Eliminate Warping
4. Filter Flux Rate
5. Filtrate TSS and PSD Requirements
6. Filter Surface Area-Length, Diameter, Design Type
7. Filter Type-Bag, Cartridge, or Other
8. Vessel Orientation, Horizontal, Vertical, or Other
9. Flowrate and Pump Requirements
10. Solids Concentration, Character of Solids
11. Fluid Viscosity, Density, SG, Acidic, Caustic, Volatile, Radioactive,
12. Hazardous Changeout Requirements and Frequency. Fast & Easy Access for Maintenance
Consider Upset Conditions-Are Vessels Large Enough and Are There
Reserve Backups Piped and Ready
Instrumentation, Safety, and Disposal Issues
Costs-Hardware, Filters, Maintenance, Disposal
3)
Converting ASME Code Cartridge Pressure Vessels from 2.5" Diameter Filters to Accommodate 6.25", 12", or 20" Diameter Filters:
This 36" Diameter Vessel, 122, 2.5" x 40" Filters. Solids holding capacity 244 pounds.
After Modification: 19, 6.25" x 40" long Diameter Filters. Solids holding capacity 326 pounds.
This type of modification reduces wasted vessel open area. No welding or ASME code change required and modification is reversible.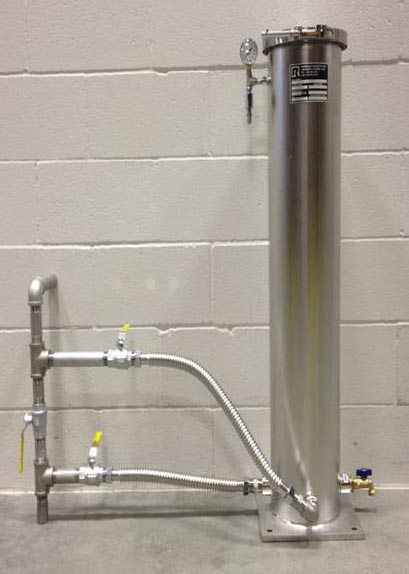 The water supply to homes, offices and industrial facilities contain two major groups of contaminants. These include suspended and dissolved solids.
Homes and businesses with Carbon Filters, Water Softeners (Ion-Exchange Resins) and Reverse Osmosis (R/O)) systems remove dissolved solids, not suspended solids.
Suspended solids include rust from metal piping, naturally occurring iron oxide, silica from wells, sand, sediment, and dirt.
These discolor drinking water, ice cubes, and stain toilets, sinks, and clothing when washed in contaminated water
Suspended solids also reduce the life and foul sensitive Carbon Filters, Water Softeners, R/O Systems, Ice makers, and Water Heaters.
In the case of small or micro breweries, the entire beer clarification process is accomplished with the use of sheet or lenticular filters. However, for larger producers, especially large package brewers, separation into separate clarification steps helps to reduce costs and achieve longer term beer stability. Generally there are four main clarification stages including primary filtration, trap filtration, fine filtration and final membrane filtration. Filtration at each stage is for a particular purpose:
1. Primary filtration
removes solids and bulk yeast

from the beer
2. Trap filtration
removes DE or other process additives
3. Fine filtration may
reduce yeast level and removes fine particulates

that could foul a final membrane filter
4. Final membrane filtration
removes organisms (bacteria and yeast)

that could spoil the packaged beer
For Industrial Liquid Filtration Questions or Your Case Histories:
Filtration & Membrane Technology, Inc.•8342 Silvan Wind, Houston, TX, 77040•Phone: 713-870-1120• Fax: 713-422-2533